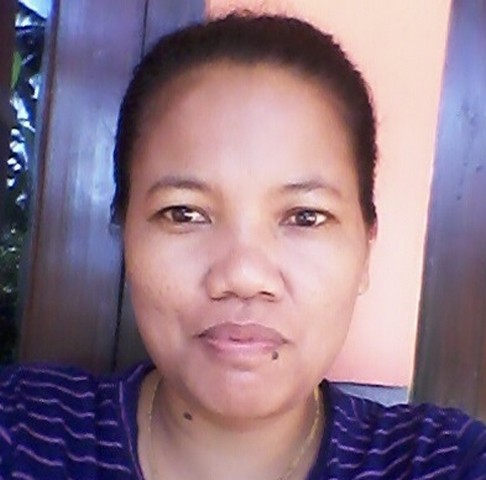 Jamini
Availability Date
15 Mar 2018
Date of Birth
05 Jul 1977 (age: 40yr)
Place of Birth
Trenggalek
Height / Weight
159 cm / 65 kg
Education
High School ( 10-12 years)
Language
English Experience (Good, 6yr)
Mandarin/Chinese-Dialect Experience (Poor, 3yr)
Bahasa Indonesia/Malaysia Experience (Excellent, yr)
(N.A., 0yr)

Preference/Aptitude & Experience
Care for Infant/Children
1yr
Care for Elderly
3yr
General Housework
10yr
Cooking
10yr
Other Information
Able to do gardening work?
Able to do simple sewing?
Willing to work on off days with compensation?
Willing to work with other helper?
Maid Introduction
Background
Jamini is 41 years old, married 1 child from Indonesia. She works in Singapore for her family's future.She speaks good English and can also write English. She has been working as a Domestic helper for 10 years now.
Personality
According to Jamini, she is friendly, honest, trustworthy, patient and hardworking. She is willing to learn other tasks that her employer would like her to do.
Experience
Jamini has worked as a domestic helper in Singapore for 10 years, 3 employers, 3 completed contract. 6 years with 1 employer
Her duties include cooking, general housework, washing, ironing, washing a car, gardening, marketing, take care of elderly.
Cooking
Jamini stated that she can cook simple Chinese and Malay food like curry, soup, nasilama, bihon, fried rice She is willing to follow the style of cooking for her new employer.
Recommendation
Jamini is willing to look after eldery for her new employer as she has done it for her previous employer. She also knows how to do the household chores like cleaning, cooking, laundry, marketing and ironing and also washing the car. She is willing to learn another task her employer would ask her to.
As everyone's culture, personal characteristics, and life experiences differ, we seek all parties involved to be patient and understanding. With proper guidance and training, she can turn out to be a good helper. I hope you can consider viewing her profile and give her an opportunity to be a good helper to your family.
Thank you.
From
To
Country
Employer
Work Duties
Remarks
1
29/05/2004
23/07/2007
Singapore
Chinese Family
Cooking,General housekeeping,look after Ahma/massage,
1 elderly 1 adult, HDB, Finished contract
2
29/08/2007
03/03/0209
Singapore
Chinese Family
Cooking, General housekeeping, Wash car, Marketing
2 adults 2 kids, condo, finished contract
3
16/08/2010
22/09/2016
Singapore
Chinese Family
Cooking,wash car,take care 2 dogs,General housekeeping,Marketing
2 adults, condo, finished contract
1
Cooking,General housekeeping,look after Ahma/massage,
1 elderly 1 adult, HDB, Finished contract
2
Cooking, General housekeeping, Wash car, Marketing
2 adults 2 kids, condo, finished contract
3
Cooking,wash car,take care 2 dogs,General housekeeping,Marketing
2 adults, condo, finished contract