Is a live-in helper right for you?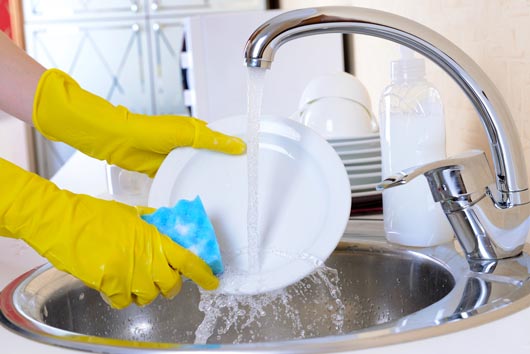 Jude Lee
For couples who are both working and have young children, foreign domestic help is increasingly seen as a necessity to ensure a good work-life balance. There will be someone to take care of the household chores and cook the meals, and help you with the kids. By delegating what you can to your helper, you can free up the time do the things you've been wanting to do – like spending quality time with your family, catching up with your friends, or picking up a hobby.
However, hiring a live-in helper is a serious commitment. Before you hire one, you need to take a few things into consideration.
Are you comfortable living with someone other than your family in your house?
The helper's role
The financial cost
The legal responsibilities
The time and effort needed to train and supervise the helper
The right mindset to accept someone who has a different way of life, beliefs and customs.
Do your research, talk to your friends, family members, neighbours, colleagues with helpers for advices and recommendations. Think about the role you would want her to undertake – is it to take care of the kids only, or is there an elderly she has to take care of as well, or she just has to cook and take care of the household. Once you have made up your mind on the selection criteria, come to us to look for someone with the skills and qualities who fits your bill.
You may choose the following types of helpers from us:
EX Singapore/Transfer helpers have worked or are currently working in Singapore. Since they have resided or are already residing in Singapore, they are accustomed to the lifestyle and language here. They are more experienced and can cook, clean, look after the baby and handle a range of household chores. Some employers prefer transfer maids as their work permit application takes the shortest time to get approval compared to those who are not in Singapore.
EX-Singapore helpers have experience working as a maid in other countries and may be able to speak some English. They may be experienced to do certain tasks. They can be hired to take care of your baby or to handle only household chores.
New helpers are those who have never worked in Singapore before. They may have similar experience in their own country. When hired, they will come from their hometown to work for you. They may not speak our language well but can understand basic instructions.
It is a challenge to hire someone who cannot communicate well, but for some, new maids are a good option as they may be easier to train and adapt.
What to look for when hiring a live-in helper?
When hiring, look for experience. Like, if her main role is to look after your children, you can consider hiring someone who has children of her own or has looked after children.
We can arrange for a face-to-face interview with the transfer maid, or skype interview if she is not in Singapore. Don't be shy to ask questions and try to know her better during the interview.
We will provide you with references of ex-employers, and the maid's employment history taken from MOM if she has worked in Singapore before.
What is a foreign domestic helper's pay?
Monthly salaries for the helpers are based on nationality and experience. New helpers have no experience in Singapore, so their salary is lower than those with experience and have worked in Singapore.
Filipinos : From S$550 onwards
Indonesians : From S$500 onwards
Burmese : From S$450 onwards
It is mandatory by Singapore government to give your foreign domestic helper a weekly rest day, which can be replaced with compensation-in-lieu (salary divided by 26 days = per day's pay) if she prefers not to take her rest day.
You will need to provide adequate shelter with sufficient ventilation and basic amenities like mattress, pillow, and blanket for your helper. You are responsible for her medical needs (except aesthetics) and required to buy her a medical and personal accident insurance.
The other costs to consider when hiring a live-in helper are:
Settling-in-Program for 1st time maids in Singapore (one-time payment)
Employer Orientation Program for 1st time employers of FDW (one-time payment)
Monthly levy to be paid to the government (monthly)
Security bond insurance (every 2 years)
Performance bond for Filipino maids (every 2 years)
Your helper's food, toiletries, 6-monthly medical check-up
Transfer fee (one-time payment)
Air tickets home after fulfilment of 2-year contract
Home leave expenses (if your helper is renewing her contract with you)
How can I prepare for a live-in helper?
Your helper will be living in your house, but she will still be an employee. In the first few weeks, you may want to take some time to train her and assess her work.
Initial difficulties. A new helper from a remote village may encounter some difficulties like understanding and communicating in your language, using modern household appliances, adjusting to living in high-rise buildings, and having different practices in taking care of children. She will need time to familiarise herself with your way of life. You can help by taking time to orientate and train her, especially in the early stages of her employment.
The time you put into teaching her in the beginning will be time well spent.
Supervise closely in the first few weeks. Spend some time working together, so that your helper can learn routines and preferences from you, and you can see how she relates to your baby. Ask her to repeat your instructions to you just to make sure she understands them. This is particularly important if there are language barriers.
Know her background. Keep a copy of your helper's photo ID such as passport and work permit card (FDWs must carry their original WP cards with them at all times, and employers cannot keep the FDWs' passports unless they specifically asked their employers to safe-keep for them), have her local and overseas contact number, and address in her hometown handy. It will be good if you know about your helper's family, and if she has any friends or relatives in Singapore.
Have a clear job description. Is she hired specifically to look after your baby? Or will she handle other household tasks such as sweeping, mopping, dusting and the washing? Some parents choose to hire someone who looks after their baby as well as handles other baby-related tasks such as bathing, changing, washing nappies, ironing baby's clothes, washing bottles and taking baby to the park.
Set reasonable work timings that allow some time off for leisure as well. Some people also expect their live-in helpers to cook, look after the family pet and run errands. You must be realistic about your expectations.
Remember, the more tasks she is assigned to do, the less quality time she has to look after your baby. You may want to consider hiring part-time help to handle the cooking, cleaning and washing.
Train her on good hygiene and safety. She may have grown up in a very different environment, or may have come from a rural area that has no piped water. You need to make sure she does things in the way you wish them to be done.
Set a timetable. Once everyone has settled into a routine, you may want to consider drawing up a schedule for everyday household activities.
This way, everyone in the house knows what to expect every day, and your helper knows exactly what she needs to do. Decide when you would like her to start work in the mornings, take short breaks and when she should wrap up for the day.
Offer a comfortable place to stay. You may want her to sleep in a spare room, or if that is not possible, you should ensure her accommodation has enough space and privacy. In homes where there are space constraints, helpers often sleep in the hall, kitchen or the children's room.  However, please note that your helper must not sleep in the same room as a male adult or teenager.
Try to give her a place where she feels comfortable. If possible, let her have her own bathroom.
Consider her feelings. If she is sharing the family meal, give her the choice of eating rice or noodles. Do not force your helper to eat food that she is not supposed to or is not comfortable with. For example, your helper may not be able to eat certain food due to her religious beliefs, or she may not be accustomed to your family's dietary requirements (e.g. vegetarian food or porridge). Allow her to cook her favourite food once in a while if she wants.
You may want to give her a separate section in the kitchen where she may want to stock up on snacks, or any foods she may have brought for herself from her home. However, do make it a point to let her know that your baby should only eat home-cooked food. Ensure that your helper does not feed your baby anything without your knowledge.
Respect your helper. Remember it is important to respect your helper. Don't use harsh language or scold her in front of other household helps or family members. If she has made a mistake, speak to her privately and help her understand your expectations.
Communicate with your helper. The key to avoiding difficult misunderstandings or distrust between a domestic helper and an employer is communication. Take the time and effort to discuss with your helper any issues or questions on work expectations and the household rules. A domestic helper may be afraid of voicing her concerns, but it is best to urge her to do so. If she does not raise any queries at first, you can encourage her to speak up and assure her that if she has any lingering doubts or worries on her mind, she can always come to you with them.
At the end of the day, you should treat your domestic helper in a manner you would wish your own employer would towards you, which is with a good sense of respect and appreciation. After all, a happily contented domestic helper is unlikely to do anything to jeopardise a satisfying work opportunity.