Levy Waiver for Foreign Domestic Worker and Application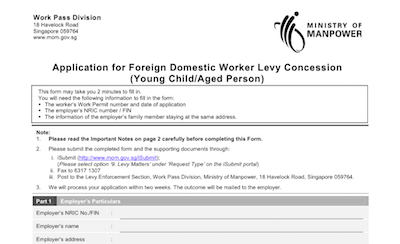 Jude Lee
Do you know you can get levy waiver for your domestic helper? Find out if you are eligible for the waiver below.
Situations when you can get a waiver for your Foreign Domestic Helper levy payments
You can apply for a levy waiver if your helper:
Is on overseas leave for at least 7 consecutive days;
Does not return to Singapore after overseas leave;
Is on hospitalisation leave issued by Singapore hospitals;
Is under police custody or is housed at the embassy.
Please note that for overseas and hospitalisation leave, the maximum amount that you can get for your levy waiver is 60 calendar days in one calendar year.
When must you apply for the levy waiver?
You have one year from the month the waiver period starts to submit the request application.
For example, if your helper is on overseas leave in January 2016 (for 7 days or more), the application must be submitted by 31 January 2017.
How do I apply for the levy waiver?
You need to apply to the Central Provident Fund (CPF) Board, MOM's levy collecting agent, for your levy waiver.
You can apply:
Online at CPF Board's employer services site (https://www.cpf.gov.sg/eSvc/Web/Employer/Introduction?fromCI=False). You need your Singpass. Click on Other Employer Services, and select Online Applications.
By posting the completed application form (https://www.cpf.gov.sg/Assets/employers/Documents/FORM_FWL12.pdf) to the CPF Board.